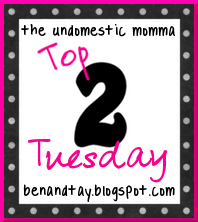 Today's Top 2 Tuesday Topic is....2 Random Facts About Yourself....
1. I HAVE NEVER been on an airplane. Seriously. I have been as far away as a 24 hour car ride but never on a plane.
2. I have been to the beach EVERY SINGLE summer at least once up until last summer when I was pregnant. Absolutely love the beach and CAN NOT wait until July.
Feel free to participate by clicking the icon above to head over to the Undomestic Momma's site. So much fun and look forward to reading everyone's random rambling's.