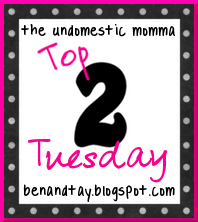 This weeks Top 2 Tuesday's topic is TOP 2 MAGAZINES....
I'm so bad about getting magazine subscriptions and never truly looking at them. However, there are a few that I ALWAYS MUST LOOK AT. And I love mail so it just makes my day to receive a good magazine in the mail.

1.
I absolutely love Taste of Home. I have NEVER cooked anything from there that wasn't good. I get at least 90% of my recipes from Taste of Home magazines & cookbooks. Only because I know they will be good!
2. People or OK
Mainly because I need my celebrity gossip. Who doesn't, RIGHT?!?!?
I have so many other favorite's such as REAL Simple, Southern Living, Parents, In Style, etc....