It's been a little bit since I've particiapted in
Taylor's Top 2 Tuesday
...but I've been missing out so it's time to play along!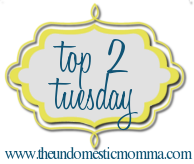 Today's Top is Top 2 Drinks...
1..Diet Coke- Seriously can't live without it! Especially these days where caffeine is much needed. And it must be Diet...honestly I don't like regular coke.
2. Sonic Lemon Berry Slush...Yummy! My all time favorite Sonic drink.
Be sure to come play along...it's really a ton of fun!
And while you're here be sure to enter my current giveaways
(links in top right sidebar)
And check back because there's some great NEW ones to come
THIS WEEK!!!